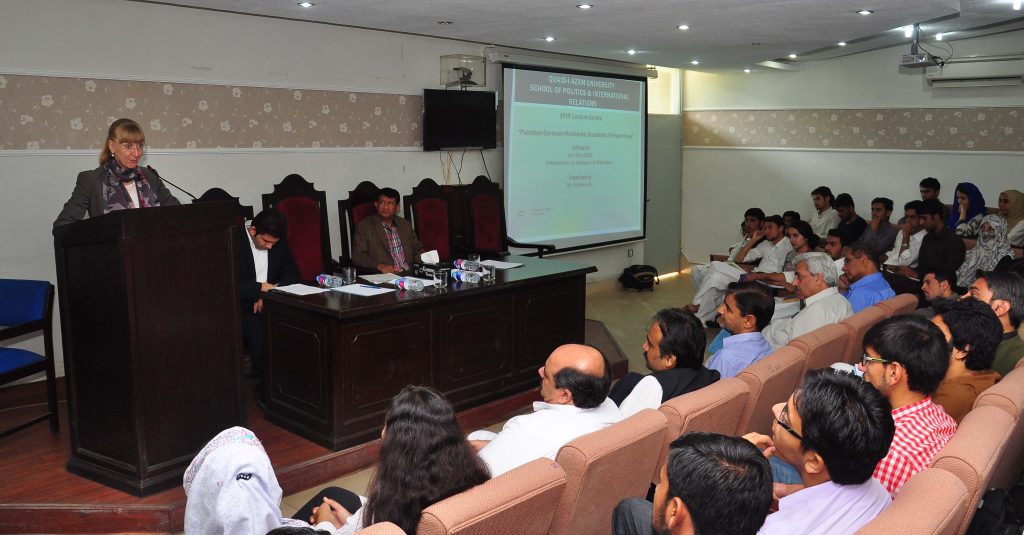 Germany is working with both Pakistan and India to de-escalate the current round of tension between the two countries, says H.E. Ina Lepel, the German ambassador to Pakistan.
Once Indo-Pak relations are normalised, Germany is ready to play the role of a "neutral mediator" to resolve their lingering conflicts "provided both the Parties desire so," she has said at a seminar organised by the School of Politics and International Relations, Quaid-i-Azam University, on 10 October 2016.
According to her, regional connectivity could play an important role in conflict resolution, as the solution of easy problems at first would pave the way for solving more complicated ones later.
"Regional connectivity leads to peace-making, a key lesson that can be learnt from the European experience," the German ambassador said. That is why, she added, Germany was interested in exploring opportunities for investment in energy and infrastructure in the China-Pakistan Economic Corridor (CPEC) project.
During her talk on Pakistan-German relations, Ambassador Lepel highlighted several key areas of German engagement in Pakistan, including in development, energy, trade, investment, education and security spheres:
DEVELOPMENT: Germany provides around 100 million Euros annually for some 30 projects for human resource development and other areas across Pakistan in partnership with local non-governmental organisations as well as provincial and federal government institutions.
ENERGY: Germany has already completed the Ghazi-Bharota Dam Project and is working on the silt issue in Warsak Dam as well as helping the government of Punjab to explore renewable energy resources. Germany was instrumental in the adoption of Energy Conservation Act.
TRADE: The annual trade between Germany and Pakistan is worth $2.1 billion, with the balance of trade in Pakistan's favour. Exports from Pakistan mainly include textile, leather, sports and surgical items con and has increased by 15% last year. Having played a key role in securing GSP Plus status for Pakistan in the European Union, which allows duty free access to Pakistan's 90% exportable items, Germany is currently working with Pakistan to sort out EU concerns over Pakistan's commitment to implement 27 international human rights conventions in letter and spirit.
INVESTMENT: Germany has invested in energy, logistics and retails sectors in Pakistan, and want to be a part of the energy and infrastructure development projects under the CPEC. Recently, a delegation of German businessmen led by the Foreign Secretary had visited Pakistan for the purpose.
EDUCATION: Expanding the technical and vocational capacity of workforce is a top priority of German developmental work in Pakistan, which is done through a variety of training programs. For post-graduate students, there are several scholarship programs, including DAAD, to study at German universities – where over 3,500 Pakistani students are currently enrolled.
MILITARY TRAINING: As part of the military cooperation, which started in 1965, over 350 Pakistan military officers have received military training in Germany and some 150 German officers have been training at Pakistani military institutions;