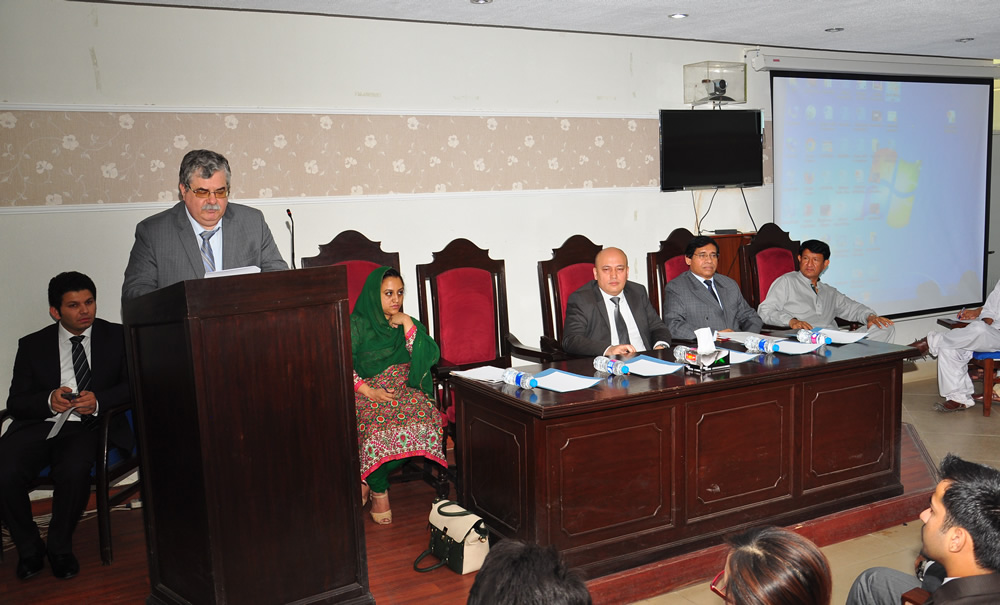 The School of Politics and International Relations organized a seminar on Shanghai Cooperation Organization and the Role of Public Diplomacy in Regional Cooperation and Integration on May 18th 2016, in collaboration with Institute of Peace and Diplomatic Studies (IPDS), Islamabad. Speakers included the Russian ambassador, Mr Alexey Yurievich Dedov, the Ambassador of Uzbekistan, Mr Furkat Sidikov, and Mr Waheed ul Hassan, Special Secretary for Public Policy and Public Diplomacy at the Ministry of Foreign Affairs, Islamabad.
The session was moderated by Salman Ali Bettani, lecturer at SPIR. He introduced the SCO while underscoring its significance in view of the emergence of Asia as the center of contemporary global politics.
Ms Farhat Asif, President IPDS, introduced her institute and its collaboration with SCO ambassadors, as well as announced the launching of SCO Studies program at an Islamabad university.
Dr Ishtiaq Ahmad, Director SPIR, welcomed the distinguished guests. While sharing his thoughts on the subject, he said full membership of India and Pakistan in the SCO would greatly contribute to conflict resolution and regional stability in South Asia.
"In a relatively short time, SCO has achieved what many other regional organizations have not been able to achieve, whether in fighting the three proclaimed evils of separatism, extremism and terrorism or in realizing effective  economic cooperation among its member-states," he said.
In his presentation, ambassador Dedov highlighted the role of the Russian Federation in the development of SCO. He also referred to SCO's decision at its annual summit at Ufa last year to include India and Pakistan as full members, saying: "The process for this membership is quite complicated, involving the fulfillment of budgetary and several other requirements by the countries awarded full membership."
Ambassador Sidikov gave a brief account of the contributions of Uzbekistan as current Chairman of SCO. He also referred to the strong historical and cultural bonds between the people of Uzbekistan and Pakistan.
Mr Waheed ul Hassan elaborated the role of public diplomacy in regional cooperation and integration. He said: "public diplomacy efforts initiated under the umbrella of SCO and themes such as Common Development could usher our region into a new era of prosperity. Common development of our region is an important objective of Pakistan's foreign policy. We firmly believe that the path to regional peace and stability lies in economic connectivity and development. Pakistan offers critical overland routes and connectivity for trade and energy transactions within the region and beyond."
"China-Pakistan Economic Corridor," he added, "serves as the natural link between the SCO states, Arabian Sea and South Asia. The CPEC would bring the SCO a step closer to achieving its vision of regional economic integration and reinforce the SCO's endeavors for the promotion of peace, security and harmony in the region."
The session was followed by a lively question-answer session, with the audience consisting students, researchers and diplomats took keen interest in the subject.