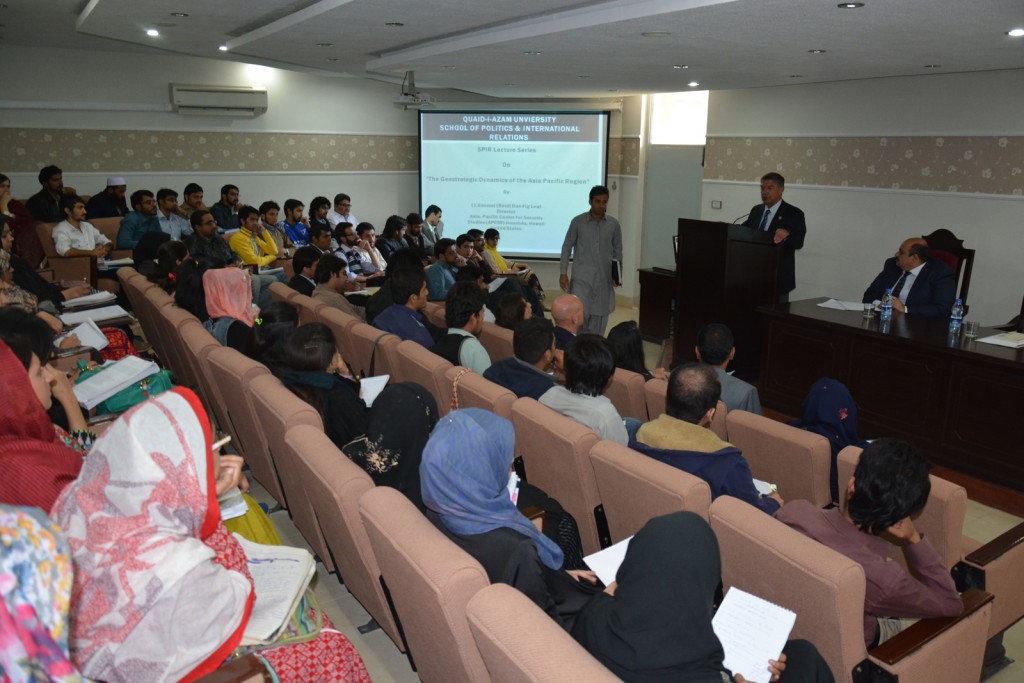 On November 11, 2014 Lt. Gen. (Retd.) Dan Fig Leaf, Director Asia-Pacific Center for Security Studies (APCSS), Hawaii visited School of Politics and International Relations (SPIR), Quaid-i-Azam University Islamabad. General Leaf talked about "The Geostrategic Dynamics of the Asia Pacific Region." He noted that the United States has been proactively involved in the conflict resolution of the regional issues. As a result of its efforts, an Asia-Pacific model has emerged as an example for other regions. Philippine has integrated the rebels in its society, Myanmar has seen a transformation in the last decade and is inching towards democracy. The idea of good governance is what we have been propounding in the region, and for that we have been in touch with all of the countries of the region.
While talking about President Obama's "Asia Pivot strategy" he noted that it is a wrong perception that the United States is intent to contain China. Economically both the US and China are interdependent and a containment strategy would be detrimental to the American economic interests. In term of strategic and military issues, there are chances of the accidental conflicts to emerge, but the United States is not bent on containing China. He noted that during one of his meetings with former President Bush Jr., Mr. Bush asked him that whether US-China conflict is inevitable? His response was no! we cannot ignore the accidental scenarios, but the chances are minimal. In response, President Bush had told him that it is your job and the job of other academics and think tanks to ensure that it doesn't happen.
While talking about the deteriorating Pak-US relations, he noted that Pakistan and the United States are stuck with each other and they will continue their relationship and the chances of their break-up is a distant possibility.
Dr Zafar Nawaz Jaspal, Director SPIR thanked the participants and highlighted the importance of the ensuing academic debate about the Asia-Pacific region and that how it may affect the structure of the international system.